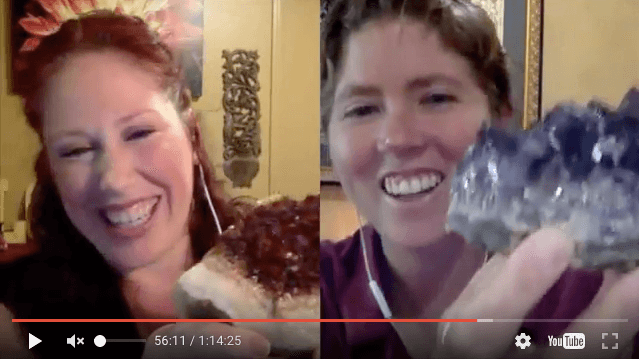 Here's what Tanya and I talk about:
Opening Pandora's box
The moment of encounter – Discovering new crystals can mirror how you approach other areas of your life
Tanya hears the crystal resonance
Enhydro – water bubbles inside a crystal
Crystals have their own personalities – some are quiet and tender, some are masculine, some are feisty
Oregon Infinity Quartz – feisty, playful, full of vitality
Crystals have their own journey and agenda
Epidote – helped with Colby's tumor
A break is a release – may be reflecting a transition
Oregon Infinity Quartz – multiple events create striations, terminations
Self healing – where the crystal breaks off and grew new crystals
Brandberg Quartz (Namibia) – really dark amethyst or clear crystal with amethyst – Super powerful healers + catalyst
Locality/Type/Metapysical name or quality
Metaphysical Name – Super Seven/Mineral Name – Coaxinate
Lemurian – has parallel striations on one or all sides of a crystal
How to deal with conflicting crystal info
If your heart and spirit resonate with a particular crystal – it's the right one for you
Programming your crystals
If a crystal is in your life, there's a purpose for it to be there
Finding a reputable source online
How to know if a crystal has been irradiated
Smoky Quartz – help clear and draw out negative energies "cleanse" crystals
What crystals would you use for romance

Ruby, Twin Flame crystal
Clusters are great for building a family

Money – Amethyst, Citrine, cluster represents growth + abundance

2 or more minerals in a crystal – Flow + attraction

Expansion/Up leveling – Nepal crystal point – hand mined at 23,000 feet

Clear Quartz from Arkansas – youthful energy
Smoky Quartz – clear blocks
Oregon Infinity Quartz – similar energy as Nepal point
Phantoms – helps us work with our shadow self
Today's Action Steps + Gift for Premium Members:
This content is for Premium Academy members only. Please upgrade your membership to access this material.
About the Guest:
Tanya Pluth learned to consciously select and work with crystals and stones while apprenticing for 8 years with a shaman, pairing stones as tools for healing, ceremony, and sacred purposes. Tanya applies her musical training and "ear" when pairing people with stones, utilizing a core aspect of her intuitive abilities: "hearing" energies and information through subtle vibration and resonance. Tanya offers consultations for those seeking to find crystals and stones of unique quality and power. Grove of Stones' crystals and minerals come from sustainable sources, with Tanya digging her own material whenever possible. Where she is unable to travel to dig her own crystals, Tanya chooses suppliers whose practices align with her commitment to sustainability and sacred-handling.
In addition to her work with crystals and stones, Tanya offers workshops, spiritual counseling, and energetic healing for people, spaces, and pets. Tanya began studying spirituality and healing arts in the 1990s and has worked as a teacher/healer for over 15 years drawing from her studies in Buddhism, Shamanism, and Druidry. Tanya's initiation became official in the winter of 2013, when welcoming the sunrise in company with 8 snowy owls. The whole story is available at Tanya's spirituality and nature photography blog, Urbane Wild (www.urbanewild.com).
As a writer and musician, Tanya's work explores issues of spirituality, identity, and difference. Her self-produced CD, Saving Graces, was nominated for 4 Pride in the Arts awards, including Song of the Year. Tanya's life-long study of music supported her healing gifts, as the energy of music and the energies of healing are one and the same.
Connect with Tanya:
Follow #TAGS On Social Media:
If you enjoyed this episode, please visit iTunes or Google Play and leave the show a rating and review!