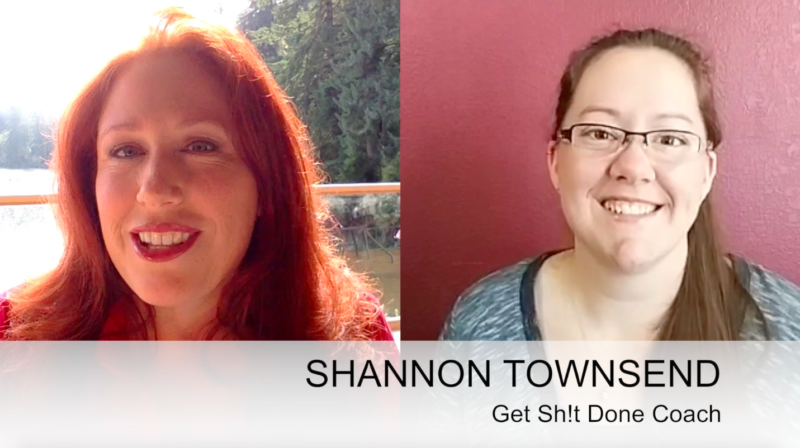 Today's Conversation is About:
Why we think we need to do it all
Your true calling will ask you to grow
We need a support team
Our calling pulls us towards action
Breaks for integration are mandatory
The hustle versus flow
You don't have to jump through a bunch of hoops
Inspiration without action = stuck
Systems create your foundation
Scheduler – Calendly
Approved Break Activities
Sticky Note System – brain dump everything onto sticky notes into the most basic components
Sales funnels
People aren't ready for the full transformation
What is already inside of you waiting to be shared?
Don't edit during the creation process
Give yourself the freedom to be messy and the permission to clean it up
Delegation – Write down everything you think you need to manage + everything you want to delegate and swap
About the Guest:
Shannon Townsend is the Get Shit Done Coach.  She fell into coaching as a natural extension of all her experiences as a Stage Manager, A Sign Language Interpreter, a Workshop Leader, and Office Girl – connecting with people as they try and make sense of everything that's happening in their lives.  Now she works one-on-one and in small groups to take online business owners through the demands of mastering life, email funnels, sales pages, and maintaining relationships, in the easiest way available.  She's the Queen of taking breaks, delegating, and providing support for people with a calling bigger than they can wrap their head around.
She works with the chronically overbooked and scrambling world changers who are: desperately trying to manage their personal life (if they have one), keep half a step ahead of their business (which could change the world if given half the chance), maintain healthy relationships (because waiting for the people you live with to read your mind hasn't worked so far), trying to mend all the other odds and ends together (without losing the little bit of sanity they've managed to hold onto). Getting Shit Done is all about integration, systems, and breaks!
Follow #TAGS On Social Media:
Twitter: @AwakendGoddess
Facebook: Facebook Page
If you enjoyed this episode, please visit iTunes or Google Play and leave the show a rating and review!