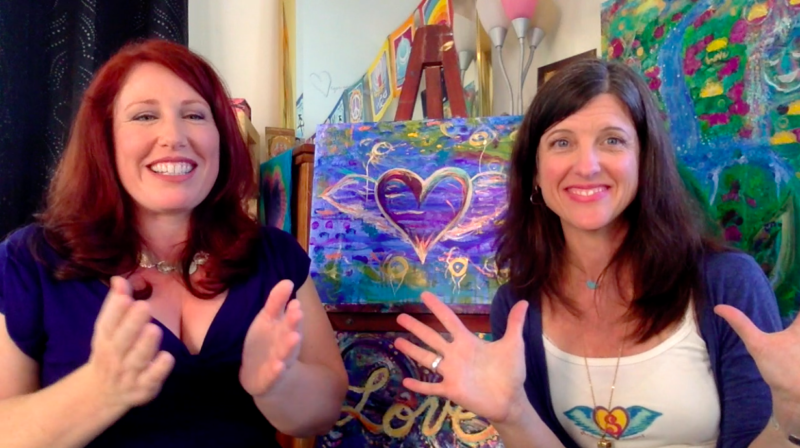 Today's Conversation is About:
The inspiration of Sarah's 'I Stand For Love' Movement
What is 'being authentic' really?
No one can duplicate your divine essence
Trust!
Boundaries with YOU around self-care
Why helping and taking care of others first doesn't work
I'll do that when… is based in worthiness
The journey to self love is the most fulfilling ever!
The cycle of not worthy + I don't deserve – will never end
"It's not about the thing" what are you really wanting?
Leaning into the unknown – the divine feminine
Let's make self-care fun!
"Follow your bliss" – let's go for comfort
The power of the pause
TAKE A STAND! 'I Stand for Love Day' August 8th @ 10:00 am Pacific/1:00 pm Eastern

Post a photo on social media #istandforlove (wear hearts!!)
Give a hug, take a self-care day for yourself, be an activist for love

Download your 'I Stand For Love' manifesto: 8 steps to creating a more loving world from the inside out.
About the Guest:
Sarah Love is an inspirational artist, outrageous optimist, and the founder of the I Stand For Love movement. She knows that creating a more loving world starts from the inside and works it's way out and she's a strong believer that love IS the answer.
Sarah spent many years on a path of Self-Love using the power of music and ritual, creativity and art, and the help of many teachers. One night in 2012, Sarah woke up with the words "I Stand for Love" loud and clear in her mind.
Over the last few years, she's organized a worldwide grassroots movement to unite people with the power of love. She knows we can create a more loving world. We've just got to take a stand.
I Stand For Love Day is August 8th. Find out more at www.istandforlove.com
Follow #TAGS On Social Media:
If you enjoyed this episode, please visit iTunes or Google Play and leave the show a rating and review!