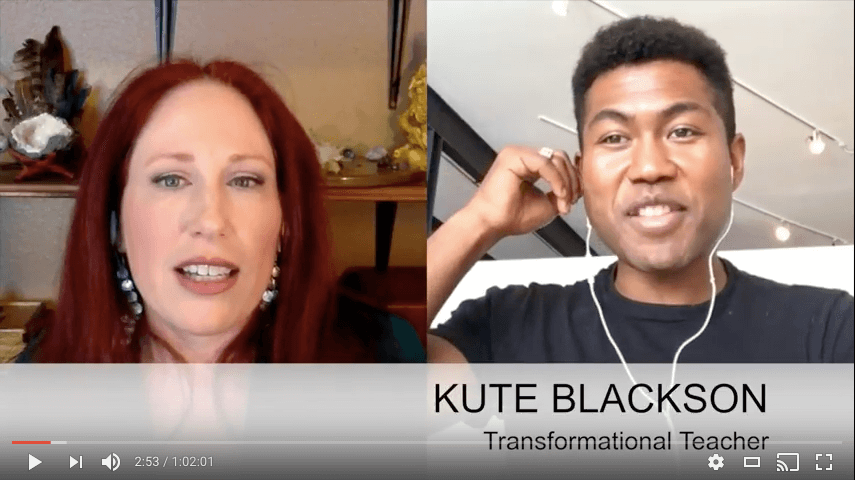 For years I experienced feeling stuck, confused and questioned if I was on the right path. Life just seemed to be such a struggle. It often felt I'd take one step forward and two steps back. Have you ever experienced feeling this way? Either way, the conversation you're about to enjoy will rock you to the core.
It all starts with a dream.
A self proclaimed Radical Truth Teller, Kute Blackson learned very young that there's no shortage of people who think they know what's best for you and will impose those ideas on you.
Are you living your dream or someone else's?
Kute's father, a highly revered leader and healer in Ghana wanted his teenage son to take over his 300+ churches throughout all of Africa, but Kute had another calling.
It was his dream to make his way to America and follow his spiritual path by becoming a transformational teacher.
When we have a dream it's because we are the person to fulfill it.
Just because we have a dream doesn't mean it's going to be easy or that it won't scare us. I mean, if it doesn't scare you, it's not really a dream right?
Life challenges and prepares us through obstacles, not because there's a grand plan to see you fail, but to grow you into the person who's fully capable of fulfilling your larger purpose.
We hold onto what we know, even if it means we suffer. 
The Universe guides us each along our path, giving us signs when we're on the right track and when we're not. At some point along the way we're asked to take a leap of faith into the unknown. Many times this is where people get stuck and abandon their dreams.
They keep waiting to see the other side before they take the leap, but part of the journey is learning when to jump and trusting you'll be supported along the way. I know, easier said than done.
Are you ready to take the leap?
Today, Kute shares four powerful questions to ask yourself that'll completely transform your life. Plus we explore what it takes to find your life's purpose and live it fully, how to release the pain of the past + stop sabotaging your success and the real secret to manifesting your heart's desires.
You can also check out Kute's newly released book YOU.ARE.THE.ONE for some great insight into your healing journey.
Today's Conversation:
The truth will set you free…but it might first upset you and piss you off.
"Truth is one of the greatest spiritual practices in our life."
Kute's key questions to ask yourself.
We hold onto what we know, even if we're suffering.
Why it's important to celebrate your struggles and challenges.
THIS is your purpose in life.
Are you wondering why you are stuck?
Visibility and vulnerability.
Why it's not really about you.
What do you want vs what life seeks to express through you.
Tell us, what was your biggest takeaway from today's show? What have you been questioning in your life? Where in your life have you been playing the confusion game? We'd love to hear about it. Leave a comment in our Insider Community and share with us.
Follow #TAGS On Social Media:
Twitter: @AwakendGoddess
Facebook: Facebook Page
If you enjoyed this episode, please visit iTunes or Google Play and leave the show a rating and review!