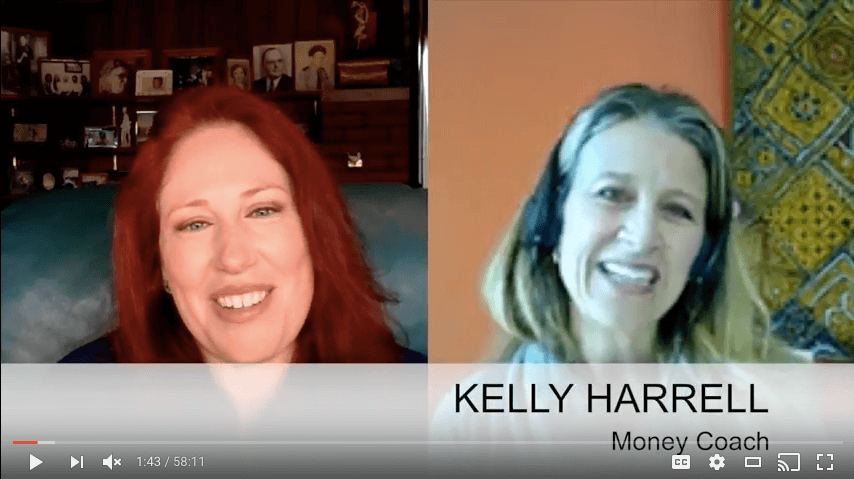 For years I was ashamed of my money story. I always felt poor, like I never had enough. I'd struggle with my embarrassment when I'd go out with friends and order hot water with lemon because I was worried I wouldn't be able to pay rent or pay my phone bill. 
I was tired of feeling like a victim and was ready to change things.
After years of this, I was tired of carrying around the baggage of my past financial mistakes, so I decided to forgive myself, faced my fear and had an open and honest conversation about it on the show (you can find that powerful episode with Alexis Pierce here).
I took my power back and completely shifted how I felt about money.
I'd been burdened with feelings of money shame. It was on my mind every single day. Immediately after the conversation, I felt the weight completely lift and my money story was forever changed. I took back my power, looked the old story in the face, talked about it openly and realized it only had power over me if I allowed it.
Finally, no more money shame!
We all have a money story, including today's guest Kelly Harrell. She found herself in a precarious situation when her husband left her with nothing but an envelop of cash. In that moment her life changed and her passion turned to helping women secure their financial freedom so they don't have to experience a situation like she did.
Learn what your money tree looks like and how to make it thrive!
During my powerful conversation with Kelly today, you'll learn some of the hidden reasons why we experience money limitation, what your money tree looks like and how to identify it's growth potential with a fun visualization.
Today's Conversation:
What does your money tree look like?
How your childhood affects your beliefs around money.
Is your tree thriving or is it's growth being stunted?
The Money Tree framework
How do your friends, family, religion, culture, company, and identity hold you back?
Do you have stakeholders unconsciously holding you to criteria/expectations of you that you do not want
Do you rationalize your limitation – why something can't happen?
Do you need to grieve and forgive yourself for where you are financially?
What's your money archetype?
How does debt feel in your body?
Afterward, I hope you have new insights around your money story and have a new tool to take back your power and grow your money tree.
Did you visualize your money tree? I'd love to hear about what it looked like. Was there an area of your tree that was under developed? Can you see how that reflects your current money situation? Leave a comment in our Insider Community. I can't wait to hear what comes up for you!
Kelly's Bonus Gift: Reveal Your Money Mindset Quiz
Click the image below to download Kelly's "Reveal Your Money Mindset" Kit. Inside you'll find a quiz and guide to identify your money archetype. Kelly also invites you to schedule a complimentary 30-minute conversation to go over your results.

Follow #TAGS On Social Media:
Twitter: @AwakendGoddess
Facebook: Facebook Page
If you enjoyed this episode, please visit iTunes or Google Play and leave the show a rating and review!