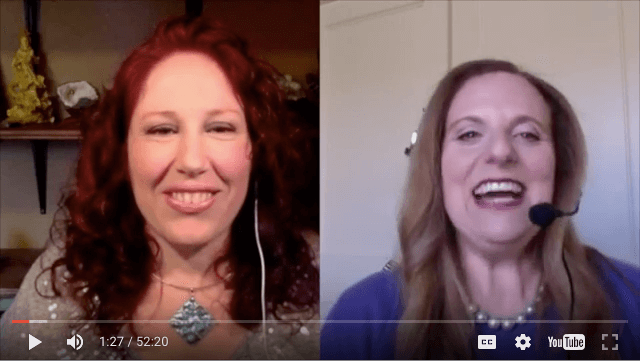 Here's what Dr. Jamie and I talk about:
Her out-of-body experience and meeting the man she'd marry
The premonition of her husband's death
Ways her husband communicated with her

Thought induction/mind melding
Through a squirrel
Through electronics – Ring, Ring!

False beliefs we must resolve to reconnect

We're not supposed to reconnect with those in spirit
The Communion of Saints says "Our loved ones in Spirit are one with/communion with God and the Saints"
If you reconnect with your loved ones, you can't move on with your life
You're preventing them from moving on

Heaven is a state not a place
Death is an illusion
We all communicate energetically every day
95% of our Universe is comprised of dark matter (doesn't reflect light)
If the mind can't comprehend something it's Divine
Steps to reconnect

Create a state of receptivity – be still and quiet
Spirit beings are pure energy and are constantly sending you communication, signs and messages through your 5 senses.
Tune into nature
Recognize the signs

Communication comes through

Sounds, smells, nature, animals

Certain groups must reconnect and stay connected

Parents who have lost children
Children who have lost parents
Elderly who are unlikely to form another primary attachment
Those who've lost someone to sudden tragic illness or death

Sometimes we are unable to resolve issues until someone passes
Today's Action Steps + Gift for Premium Members:
This content is for Premium Academy members only. Please upgrade your membership to access this material.
About the Guest:
Known to millions as "Dr. Love," radio and television personality Dr. Jamie Turndorf has been delighting audiences for three decades with her engaging blend of professional expertise and spicy humor. Her success is largely due to her remarkable ability to turn clinical psychobabble into entertaining and easy-to-understand concepts that transform lives.
She has authored several books on resolving relationship conflicts with partners, friends, family members and children. Hay House has published her latest two books, Kiss Your Fights Good-bye: Dr. Love's 10 Simple Steps to Cooling Conflict and Rekindling Your Relationship (January 2014) and her bestselling Love Never Dies: How to Reconnect and Make Peace with the Deceased (August 2015), which introduces her new Trans-Dimensional Grief Therapy method and Dialoguing with the Departed technique.
Dr. Turndorf's "Love Never Dies" radio show can be heard each Tuesday on Hay House Radio. Her "Ask Dr. Love" radio show is currently broadcast out of DreamVisions7 radio network and in 80 countries worldwide. She is the "go to" relationship expert on numerous television and online networks, such as CBS, VH1, WebMD, and MSNBC. Most recently, CNN has been featuring her as the resident authority on relationship advice and human behavior.
Connect with Dr. Jamie:
Follow #TAGS On Social Media:
If you enjoyed this episode, please visit iTunes or Google Play and leave the show a rating and review!