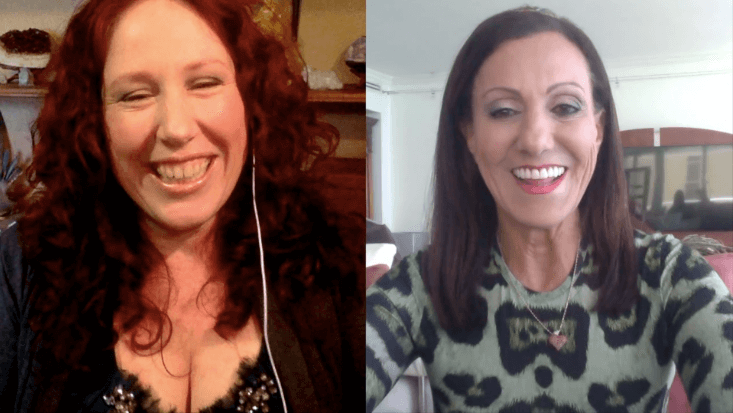 Here's what Dianne and I talk about:
There is something larger at work in the quantum field
The Awakened Goddess Show is expanding
Don't invalidate your own process
How we experience fear
Least Action Pathways – the way the energy or thought goes
Stepping in and stepping up
"Your mind is your life and you aren't your mind"
The intelligence comes through us when we have the intent to connect
"The tiniest flame in a darkened room can illuminate the whole room"
Intent versus Intention
5 natural faculties of Mind

Intent
Intuition
Subtle Energy
Resonance
Meditation

Quantum Leap – Max Planck – an instantaneous shift
Living in the 'unknowable'
Becoming established in the state of a master
Scientists create language to label a discovery
Old world view – circumstances rule (evidence based, true/false, limited view)
Quantum world view – intent rules (holistic, holographic, inter-related)
Listen from 'not knowing' – never been in this moment
The field has intelligence
Your intent is the feeling tone of being
Unaware intent = Foot on the break – and accelerator at the same time
Difference between Quantum thinking and Positive thinking
Context creates reality
Make the distinction between a thought you initiate vs a visiting thought
Today's Action Steps + Gift for Premium Members:
This content is for Premium Academy members only. Please upgrade your membership to access this material.
About the Guest:
Dianne Collins is an original thinker, media personality and the leading authority in "new world view" thinking. She is the author of the highly acclaimed, six-time award-winning bestseller, Do You QuantumThink? New Thinking That Will Rock Your World – considered a must-read for our changing times. She is dedicated to people living spirited, joyful, and masterful lives through leaps in awareness and new thinking using what she calls, "the physics of mind."
Dianne created the groundbreaking new system of thinking – QuantumThink® for living the highest and best in everyday practical life — integrating science, philosophy, and spirituality; drawing on sources that range from cutting edge scientific innovations to the wisdom of the world's greatest spiritual leaders – making it relevant in popular contemporary culture. She is a master of translating ancient knowledge into modern "quantum" wisdom that provides a transformative platform for the way we conduct our personal, business, and global affairs.
The 21 principles of QuantumThink leap us from the outdated "old world view" limits of the Industrial Age – to begin thinking from the more accurate and up-to-date "new world view" of our Quantum Age. As Dianne puts it: "Old World View = Circumstance rules; New World View = Intent rules. Whatever you do in life you have to deal with your mind. When you master your mind, you master your life. This is what they didn't teach you in school."
A popular media guest and speaker, Dianne Collins has been interviewed on more than 250 radio and TV shows, and is a blogger at The Huffington Post. She was the keynote at the International Enneagram Association, featured speaker at a special event hosted in her honor by the University of Miami Alumni Association, and was invited to present in the prestigious lecture series of Florida International University's Program in the Study of Spirituality, along with distinguished speakers including His Holiness The Dalai Lama. In 2014 Dianne was a recipient of the Top 20 Conscious Entrepreneurs Award.
With her husband and business partner, Alan Collins, Dianne consults visionary leaders and senior executives in the world's leading corporations to go beyond "hidden" limits of their thinking – accelerating results and catapulting nonlinear achievements. Clients have included Accenture, AT&T, CNN, DuPont and McKinsey; agencies of the USA government including National Partnership for Reinventing Government under Vice President Al Gore, Federal Executive Institute and the Office of the Assistant Secretary of Defense; as well as entrepreneurs and politicos, homemakers and students, celebrities and evolutionaries worldwide. Dianne's wide range of experiences—from receiving the teachings of enlightened masters to partying with the "rock stars" and glamorous movers and shakers—give her a big picture view and a unique connection with people of all ages, cultures, and perspectives.
Drawing on cutting edge quantum insights, ageless spiritual knowledge and revealing the essential role of the mind in living effectively with modern and pop culture–Dianne Collins offers us advanced thinking principles for leaps in awareness that enable real solutions, from the pursuit of inner serenity to harmonious relationships, business results and global affairs. This entertaining and thought-provoking book asks us to question many of the fundamental assumptions of our own worldview, and offers a multidimensional "new world view" of thinking for the betterment of our lives and our world.
QuantumThink® takes us straight to the core – what are the dynamics of creation that we as ordinary people have been endowed with by divine birthright, and most importantly, how do we master those faculties of creating and manifesting. Even as a teenager Dianne's "inner knowing" told her that living our highest potential would only happen through a leap in consciousness––free and able to transcend limited thinking that keeps us stuck and society's woes in place.
Dianne is a graduate of the University of Miami in Philosophy and Psychology and a lifelong student of Siddha Yoga and numerous leading edge modalities and models that make life better and more joyful. Her varied experiences as a Fortune 100 corporate manager, an award-winning photographic artist, video producer, and currently as a consultant to business executives and entrepreneurs, all contribute to her extraordinary gift of originality and ability to express complex universal subjects in clear and powerful ways that benefit people instantly.
Connect with Dianne:
Follow #TAGS On Social Media:
If you enjoyed this episode, please visit iTunes or Google Play and leave the show a rating and review!