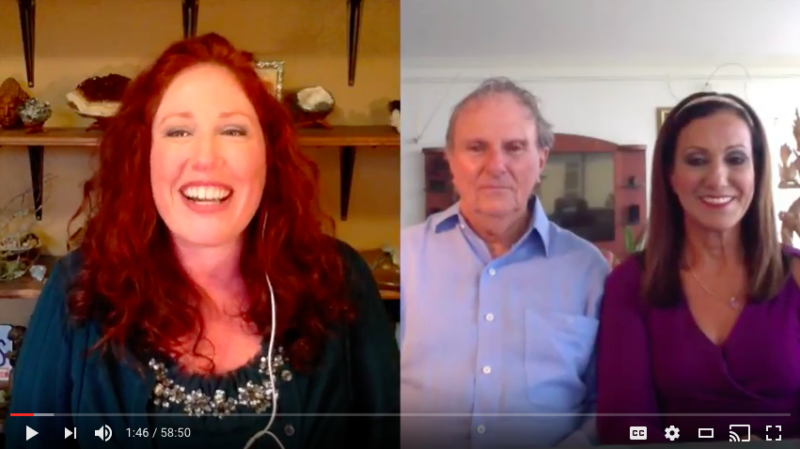 Today's Conversation is About:
Intent VS Intention
An intent activates the field, it's an ever present emanating force and is always working
Default intent (one you didn't consciously create) versus a consciously created one
Without awareness of your default intent, that's the one you'll continue to manifest over and over again
We think reality is static, when in reality it's not fixed
Resonance – your energetic field becomes attractive and magnetizes everything you want
Your body will tell you how much you resonate with something or not
Other people feel your resonance – push or attract people to you – dates, pricing, sales
Today's Action Steps + Gift for Premium Members:
Login here or Upgrade now to access today's action steps + bonus gift.
This content is for Premium Academy members only. Please upgrade your membership to access this material.
About the Guests:
Dianne Collins and Alan Collins have been partners in life and in business for more than 20 years. They consult visionary leaders and senior executives in the world's leading corporations to go beyond hidden limits of their thinking – accelerating results and catapulting nonlinear achievements. They have presented unique QuantumThink coaching programs via teleconference to tens of thousands of people worldwide, from every walk of life.
Their clients have included Accenture, AT&T, CNN, DuPont, Morgan Stanley Wealth Management, and McKinsey; agencies of the USA government including National Partnership for Reinventing Government under Vice President Al Gore, Federal Executive Institute and the Office of the Assistant Secretary of Defense; as well as entrepreneurs and politicos, homemakers and students, celebrities and evolutionaries worldwide.
Dianne Collins is the creator of the QuantumThink® system of thinking and author of the six-time award-winning bestseller, Do You QuantumThink? New Thinking That Will Rock Your World – considered a "must-read" for our changing times. She is dedicated to people living spirited, joyful, and masterful lives through leaps in awareness and new thinking using what she calls, "the physics of mind."
A popular media personality, Dianne has been interviewed on more than 500 radio and TV shows, is a featured blogger on The Huffington Post, and a recipient of the Top 20 Conscious Entrepreneurs award.
Dianne created QuantumThink® for living the highest and best in everyday practical life. Drawing on cutting-edge quantum insights, ageless spiritual knowledge, and revealing the essential role of mind in living masterfully within modern culture in the midst of our great shift – this advanced thinking methodology enables real solutions from the pursuit of inner serenity to relationships, business results and global affairs. Dianne's work is considered as entertaining as it is enlightening.
Dianne is a graduate of the University of Miami in Philosophy and Psychology, and a lifelong student of meditation and yoga and leading edge modalities and models that make life better and more joyful.
Alan Collins, Master QuantumThink Coach and Strategic QuantumThink Consultant, emanates his natural inclination to have people be successful in all areas of their lives. His exceptional talent and intuitive ability to zoom in directly on what is most significant for people, instantly connects them to their power to go forward in living their vision.
Alan was born and schooled in London, England. When he was 25 Alan moved to the United States where he became a highly successful small business owner of renowned beauty salons. Years later after experiencing a transformational discovery in his own life, he refocused his talents to human development as it relates to business and professional success.
Many of Alan's clients, each one of them highly accomplished leaders, have been with him for more than 10 years – a testimony to the ever-expanding value of his insight and laser coaching. He is known by his peers as a "coaches' coach."
Together, Dianne and Alan's wide range of experiences—from receiving the teachings of enlightened masters to partying with the rock stars—give them a big picture view and a unique connection with people of all ages, cultures, and perspectives.
They live in Sunny Isles Beach where they enjoy tennis and swimming, movies and meditation, family and friends. Dianne and Alan have had a spiritual practice of reading aloud to one another teachings from the masters and the scriptures every morning since they have been together.
Connect with Dianne + Alan:
Follow #TAGS On Social Media:
Twitter: @AwakendGoddess
Facebook: Facebook Page
If you enjoyed this episode, please visit iTunes or Google Play and leave the show a rating and review!