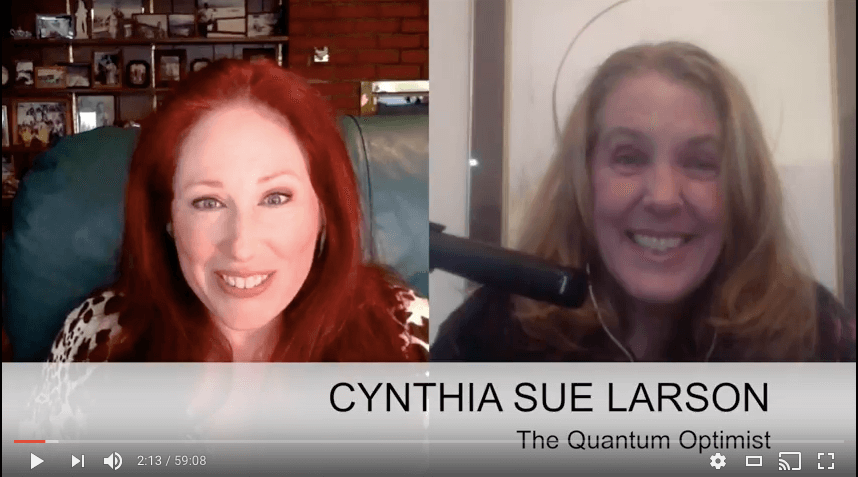 Have you ever had the experience of something appearing out of the blue, like finding money in a drawer that wasn't there before, or seeing your keys in one place and having them show up in another?
We're experiencing shifts in reality all the time.
Today on the show, my guest Cynthia Sue Larson explains this 'now you see it, now you don't' phenomenon, and it isn't as uncommon as you might think!
During our conversation we talk about really fun, mind blowing examples of how this has showed up in our lives lately. I bet you have a few of your own and if not, you might realize they've been happening all along, you just didn't know it.
It's hard to believe, even when it happens right in front of your eyes.
Talking about tapping into the quantum field and making manifesting super easy totally excites me. In fact I'd say it's one of my favorite topics. The reason why it gets me so fired up is because there are unlimited possibilities available to us in the quantum field.
The more I learn about making quantum jumps in my own life, the faster I'm finding things are manifesting for me.
Once we know how to tap into this realm of possibility, it becomes really easy to manifest and create exactly what you want.  
Cynthia and I navigate through a rich conversation about the how and why of quantum jumping, what causes the shifts in reality, and how to channel your future self through En-Visioning.
By the way, in case you don't recognize her from her past appearance, she joined me shortly after I first started my show as a podcast back in October of 2014. It seems like only just yesterday. You can catch that episode here: Episode #39 Surfing the Multiverse with Quantum Jumps. We had a mind-bending conversation back then and I've been wanting to have her back.
Cynthia is like a soul sister to me. She is so genuine and down to earth, not to mention she has an impressive bio including a physics degree from UC Berkeley, an MBA and a Doctor of Divinity. Needless to say, Cynthia knows her stuff!
Today's Conversation:
What are quantum jumps?
We experience reality shifts all the time.
How extraordinary can become more ordinary.
What triggers reality shifts?
Cynthia's favorite way to channel energy.
What is the Quantum 'YOU' doing?
The miracle creating question to ask yourself as often as you can.
How something that's "bad" can be the best thing that can happen to you.
3 steps to manifesting.
How to channel your future self through En-Visioning.
Every choice is a quantum jump.
Join us in a breathing meditation.
Get a copy of Cynthia's book: Quantum Jumps: An Extraordinary Science of Happiness and Prosperity
Tell us, what was your biggest takeaway from today's show? Have you had thing show up in unexplainable places? Do you have a cool experience with reality shifts or quantum jumping? We'd love to hear about it. Leave a comment in our Insider Community and share with us.
Follow #TAGS On Social Media:
Twitter: @AwakendGoddess
Facebook: Facebook Page
If you enjoyed this episode, please visit iTunes or Google Play and leave the show a rating and review!