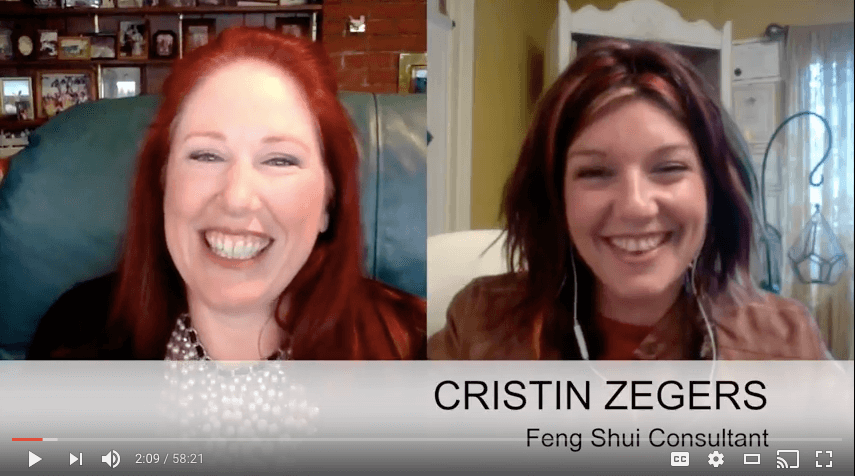 I love this time of year because I burn tons of yummy candles nearly 24/7 and cinnamon spice is one of my favorites.
Did you know cinnamon is one of the best scents for attracting money?
Today is a really fun episode and you're going to get TONS of creative tips to help you Feng Shui your life and make 2017 fabulous!
When you work on one area of your life, it'll enhance all other areas as well.
Literally as soon as I was done interviewing today's guest, I rearranged my bedroom, my recording "studio" and made my love, fame, travel and wealth areas energetically aligned with my intentions for next year.
What are your intentions for next year?
Cristin Zegers has been practicing the ancient art and science of Feng Shui for over 10 years. Join us for this fun and enlightening conversation and learn what simple things you can do to create powerful shifts and attract more money, love, health and adventure into your life.
Where your eye goes, the energy flows!
Learn Cristin's favorite tools to enhance and boost love + money, find out the big Feng Shui No-No, and learn why your front door is the most important place in your home.
Today's Conversation:
Learn the elements + design to enhance and boost love + money.
Everything is connected.
Why your front door is a key place in your home.
Find out the appliance that represents your money.
Learn where the energy flows into your life.
How to enhance Feng Shui with intention and affirmations.
These 5 elements will create a feeling of harmony in your space.
Always do this in the relationship area of your home to enhance your love life.
This one Feng Shui tip can bring your child a sense of security and comfort.
What to do if you have a chronic issue.
Use all of these equally to inspire money flow.
Learn this big Feng Shui no-no.
Did you get any good tips from the show? I'd love to hear in what way you will use Feng Shui to energize your home. Leave a comment in our Insider Community. I can't wait to hear what you decide to do!
Follow #TAGS On Social Media:
Twitter: @AwakendGoddess
Facebook: Facebook Page
If you enjoyed this episode, please visit iTunes or Google Play and leave the show a rating and review!